Kintaro-bib
---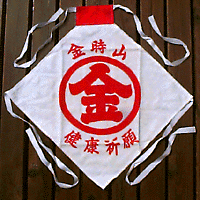 According to the "Kintaro" legend, "Kintaro" had only bib on. Uniquely designed bib, Chinese character "Gold" is printed red on it.
If you want to know how to use it, click HERE.

No one practically use it anymore, but people still love it as an ornament or a talisman for children's healthy growth.

---