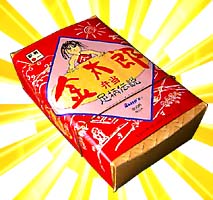 Station Lunch Box
"Eki-ben"
First food style lunch box is very popular here in Japan. Especially when you travel the country by train, you can enjoy eating "Eki-ben (Station First-food Box)" on board. Many local stations carry "Eki-ben" of local color.
Here at Odawara station, the famous "Kintaro" Eki-ben is popular among visitors to Kintaro village.
Inside the box, you will see steamed rice topped with assorted local vegetables, fish, processed foodstuffs and so on.
Delicious ! ....900 yen.